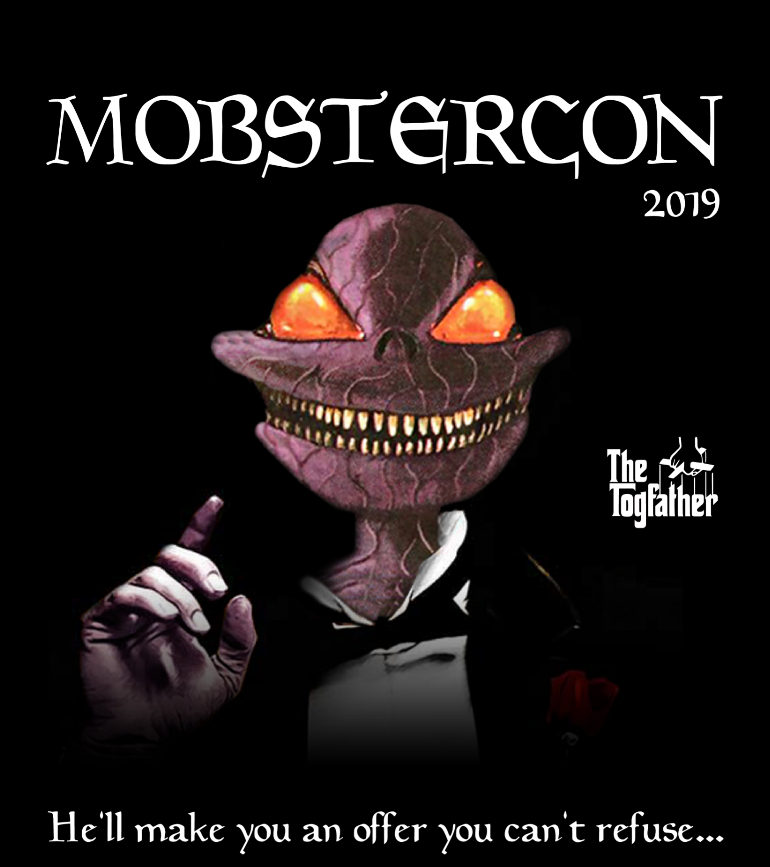 Mobstercon 2019
Hello friends! Do you love casting old Magic cards? Do you love team tournaments? Are you tired of playing (and playing against) the same 'ole decks? Enjoy tier 1.5 Pastrami? If you answered yes to at least 2 of the above questions, keep reading.
Format
OLD SCHOOL 93/94 – 3 PERSON TEAM UNIFIED CONSTRUCTED This means that if you stack all 3 team decks on top of one another, the resulting giant deck still has to be legal. So only 4 Bolts, 4 Volcanics, 1 Lotus, 1 Chaos Orb, etc, per team (you can split cards between decks though, i.e. 2 Bolts in 1 deck and 2 in another.) I am a big fan of the format for a few reasons. First, and most importantly, team tournaments are frickin awesome. Second, the team unified brewing restriction forces you to brew something outside the box. And third, the format is super budget friendly (for Old School), as the most powerful cards are spread out over 3 decks, not 1. That said, I know there are downsides, mostly logistical. It is hard enough to get a single person to commit to something 3 months away, much less 3 people. If you want to play and are having trouble putting together a team, reach out to me and I will try to match you up with other people in the same boat.
Registration
To play you must register prior to June 1st. There will be no registration day of. I expect this even to fill up quickly, and space is limited, so don't procrastinate too much!
Click here to register. YOU MUST FILL OUT ALL THE BILLING DETAILS IN CHECKOUT, EVEN THE ONES THAT SAY OPTIONAL! There is apparently no way to fix this, or at least no way for someone with my technical know how to fix it.
** Don't stress about the team name as you can always email me later to change it.
Entry
$100/TEAM (non-refundable) All proceeds will go to HomefrontNJ. Homefront is based out of Trenton, NJ. Their mission is to end homelessness in Central New Jersey by harnessing the caring, resources and expertise of the community. In short, they help families break the cycle of poverty. It is a great organization, who wastes almost nothing, and gets top notch marks on Charity Navigator.
Date & Time
SATURDAY JUNE 1ST Tourney will start at noon, doors open at 11:00. I imagine there being 6-7 rounds of swiss, and ending around 7:30 PM.
Banned & Restricted List
ATLANTIC RULES* The tournament will feature Atlantic Rules with a single modification. Mishra's Workshop is restricted. There are 2 reasons for this: (1) I think it a super obvious and easy build around and (2) it provides a huge barrier to entry as shops are not nearly as prevalent as power/duals etc. I do not want the top 8 to just be the 8 teams that were able to assemble 4 shops. More info about Atlantic Rules can be found here.
Prizes
Prizes will be awarded to top finishers, most creative decks (both individually and across the whole team), and for Team Name. Yes we are bringing back team names. Please do not be the team to mail in your team name, as that would be pretty embarrassing. I am looking forward to seeing some great team names! Prizes will Old School in nature (likely both cards and other goodies.) This a tournament for fun (not EV) so do not expect to make a killing by spiking this tourney. ALL TIEBREAKERS WILL BE DECIDED BY DECK SPICINESS, as judged by me, so plan accordingly!
Venue
The tourney will be held in the Atrium Ballroom at the E Hotel and Banquet and Conference Center in glorious Edison, NJ. This is the very same building that played host to many a PTQ back in the late 90's. I have locked up a block of rooms at $75/night for Friday and Saturday. You need to call
(732) 661-1000 on an actual phone (I know) and mention Mobstercon in order to receive this rate, and you must do so before April 30th. There is plenty of free parking on-site. There will be a cash bar featuring beer, wine, and mixed drinks. Absolutely no alcohol may be brought in from outside the venue. Please be respectful of the venue, the cards, and the people around you, or you will be asked to leave (and unwelcome at future events). Old School is predicated on treating others with respect, and enjoying the people you play with. Don't take yourself too seriously, or you're doing it wrong.
Merch
Tshirts, playmats and maybe some other spice will soon be available. All proceeds will benefit HomefrontNJ.
Check back here to purchase official Mobstercon 2019 merch.
Menu
The venue is connected to arguably the greatest Jewish Deli in all of New Jersey, Harold's. There will be no pre-orders. I will provide menus day of for people to order on their own. One warning: the portions are HUGE. The pastrami sandwich (highly recommended) is like $28, but it has ~ 1 lb of meat easily feeds 3 people. The menu is huge as well, more like a diner than a deli, so should be no problems finding something to eat.
Deck Photos
There are no text lists in Old School, only deck pics. If you would like your deck (or your team decks) to be considered for creative prizes, you will need to submit a deck photo.
Click here to submit deck pic. If your deck pic is at all difficult for me to quickly decipher it will not be considered for any creative prizes.
Area
The venue is about 30 miles from downtown Manhattan, and 17 miles from Newark airport. You can easily make a NYC weekend out of this event if you are so inclined! It is at the nexus of 4 different major highways. NJ Transit trains also run directly to Edison. You can eat and stay onsite. Full one stop shopping, so you have no excuse not to come 🙂 I hope to see you there.
Registered Teams
Will Magrann. Mark Hornung, Svante Landgraf
Andy Baquero, Adam Merkado, Sammy Hagour
Eric Phillips, Andy Longo, Eric Berger
Dave Firth Bard, Jared Doucette, Scott Bradley
Ben Katz, Don Perrian, Ian Hendry
Dan O'Mahoney Schwartz, Lan D Ho, Mat Sperling
Jason Beaupre, Andrew Callaghan, Jason Koresko
Bryan Manolakos, Jamie Parke, Jon Finkel
Mark LePine, Adam Lemke, Jeff White